Culinary Constellations: 10 Indian Michelin Chefs Elevating Global Fine Dining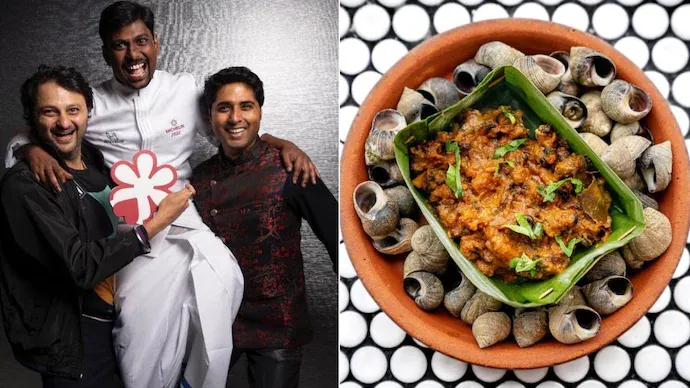 In the vast tapestry of global cuisine, Indian food has always held a special place, known for its rich flavors, diverse ingredients, and deep-rooted traditions. From the aromatic biryanis of the North to the spicy curries of the South, Indian cuisine has been celebrated and savored by many. But in the world of fine dining, where presentation meets precision and where every dish tells a story, Indian cuisine is undergoing a renaissance. At the forefront of this culinary revolution are seven Indian chefs, each wielding a Michelin star, each with a unique tale to tell.
These chefs are not just ambassadors of Indian cuisine; they are its modern-day pioneers, as the proud representatives of Indian rich cultural heritage. They have ventured beyond the traditional boundaries, infusing age-old recipes with contemporary techniques, and presenting them on the global stage. In a world where the Michelin star is the epitome of culinary excellence, these chefs have not only earned this accolade but have also showcased the versatility and depth of Indian cuisine. Their journeys, marked by passion, perseverance, and innovation, are a testament to the evolving narrative of Indian food in the global fine dining arena.
While the Michelin Guide has yet to make its mark in India, these chefs have taken the essence of Indian cuisine to corners of the world where this prestigious accolade is celebrated. They have transformed Indian food from the familiar comfort of home-cooked meals to the exquisite art of fine dining. Through their endeavors, they are redefining how the world perceives Indian cuisine, elevating it to unprecedented heights, and ensuring that the flavors of India find their rightful place among the stars.
1. Vikas Khanna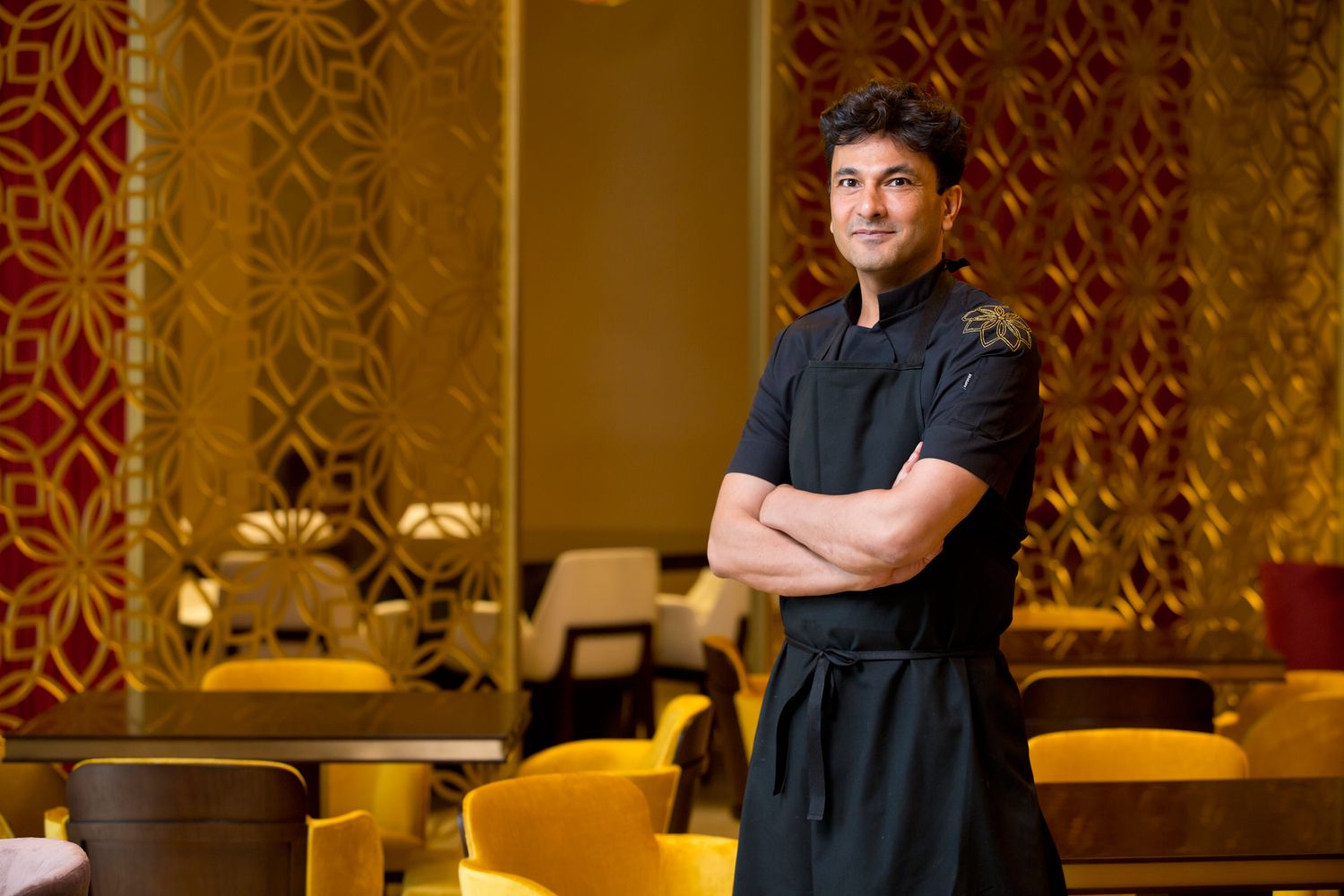 Journey to Culinary Stardom:
Born and raised in Amritsar, Punjab, Vikas Khanna's culinary journey began in his grandmother's kitchen. Despite being born with misaligned feet, a condition that made walking difficult, Khanna's determination led him to open Lawrence Gardens Banquets to host weddings and family functions by the age of 17. His passion for food took him to the prestigious Welcomgroup Graduate School of Hotel Administration, Manipal, where he honed his skills.
New York and Junoon:
Khanna's ambitions took him to New York in the early 2000s. Facing initial struggles, including the aftermath of the 9/11 attacks, he persevered, eventually opening Junoon, an upscale Indian restaurant in Manhattan. Junoon received a Michelin star within a year of its opening, a testament to Khanna's culinary prowess.
Global Recognition:
Khanna's talents aren't limited to the kitchen. He's a bestselling author, filmmaker, and humanitarian. His documentary, "Buried Seeds," chronicles his journey from Amritsar to America. He's also been a judge on MasterChef India, bringing his expertise to millions of viewers.
Notable Achievements:
Beyond his Michelin star, Khanna's humanitarian efforts, especially during the COVID-19 pandemic, have been commendable. His initiative, Feed India, provided millions of meals to the needy during these challenging times.
Signature Dishes:
While Junoon offers a plethora of Indian dishes, Khanna's personal touch is evident in creations like the lamb shank, cooked to perfection with traditional Indian spices, and the eggplant chaat, a delightful fusion of flavors.
Conclusion:
Vikas Khanna's story is one of determination, passion, and the drive to elevate Indian cuisine on the global stage. From the bylanes of Amritsar to the bustling streets of New York, his journey is an inspiration to many.
2. Atul Kochhar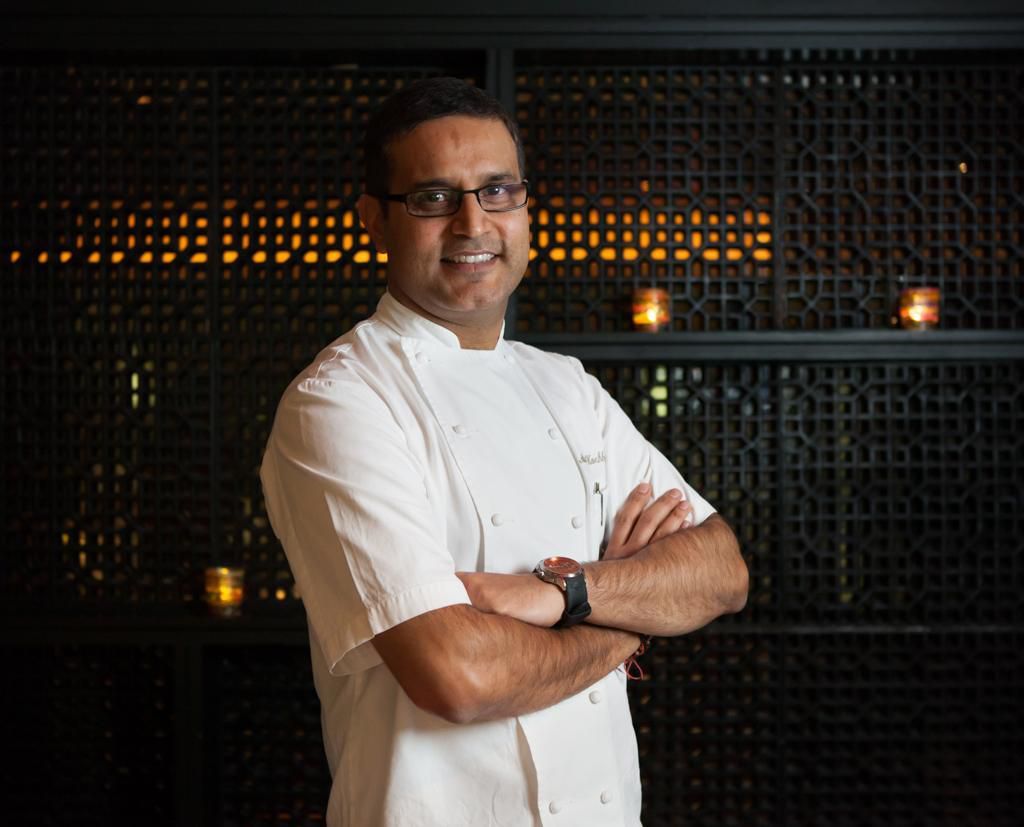 Early Days and Culinary Beginnings:
Atul Kochhar's tryst with food began in Jamshedpur, India, where he was born. His early culinary influences came from his father, who owned a small catering business. Kochhar's formal culinary education began at the Institute of Hotel Management in Chennai.
Michelin Milestone:
Kochhar's journey in the UK began with Tamarind, an upscale Indian restaurant in London. Under his leadership, Tamarind became the first Indian restaurant to receive a Michelin star in 2001. Not one to rest on his laurels, Kochhar opened Benares in London's Mayfair, which also received a Michelin star.
Signature Dishes:
Kochhar's culinary style is a blend of traditional Indian techniques with a modern twist. Dishes like the British lamb with Rogan josh sauce showcase this fusion. His recent venture, Saga, in Gurugram, India, offers delights like Ayam Tikka and goat curry, reflecting his commitment to authentic Indian flavors.
Global Ventures:
Beyond the UK, Kochhar has restaurants in Ireland, Spain, and on luxury cruise liners. Each restaurant reflects his philosophy of blending traditional Indian techniques with local ingredients.
Conclusion:
Atul Kochhar's dedication to presenting Indian cuisine in a contemporary light while staying true to its roots has earned him accolades and respect in the global culinary community. His journey from Jamshedpur to London is a testament to his talent, innovation, and relentless pursuit of excellence.
3. Vineet Bhatia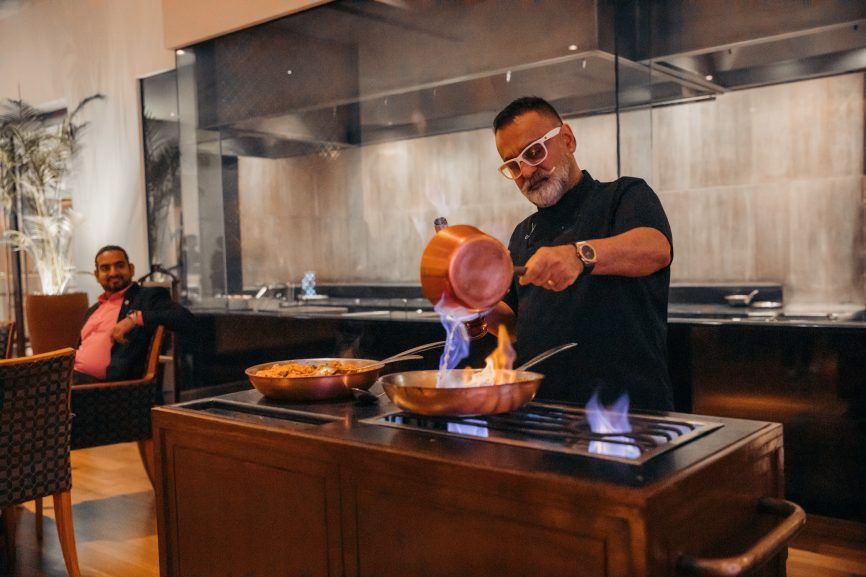 Mumbai to Michelin:
Born in Mumbai in 1976, Vineet Bhatia's culinary journey began with the Oberoi Group, where he worked in Delhi and Mumbai. However, his desire to redefine Indian cuisine took him to London, where he began experimenting with traditional Indian flavors.
Zaika and the Michelin Star:
Bhatia's innovative approach bore fruit with Zaika in Kensington, which received a Michelin star in 2001. His dishes, like the tandoori-smoked salmon and spicy lamb masala, showcased his ability to blend traditional Indian flavors with modern culinary techniques.
Global Footprint:
Bhatia's culinary empire extends beyond London. His restaurant in Geneva, Rasoi by Vineet, also received a Michelin star. His approach to food is best described as a global palate with an Indian soul, evident in dishes like foie gras with wild mushroom naan.
Conclusion:
Vineet Bhatia's journey from Mumbai to becoming a Michelin-starred chef in London and Geneva is a story of innovation, passion, and the drive to present Indian cuisine in a new light. His ability to seamlessly blend traditional Indian flavors with global ingredients sets him apart in the culinary world.
4. Garima Arora

From Mumbai to Michelin:
Garima Arora's culinary journey is nothing short of inspiring. Born in Mumbai, she initially embarked on a career in journalism. However, her passion for food led her to the prestigious Le Cordon Bleu in Paris. After graduating, she honed her skills at Noma in Copenhagen under the guidance of the renowned chef René Redzepi.
Gaa and Global Recognition:
In 2017, Arora opened Gaa in Bangkok, a restaurant that seamlessly blends Indian techniques with Thai ingredients. Within a year, Gaa was awarded a Michelin star, making Arora the first Indian woman to achieve this honor. Her innovative dishes, such as the unripe jackfruit served with roti-taco, showcase her ability to create a unique culinary narrative.
Signature Dishes:
Arora's menu at Gaa is a testament to her innovative approach to food. Dishes like Strawberries with Royal Project Sturgeon Caviar and Hor Wor Oil stand out, with the latter ingredient sourced from the Chiang Rai forests, adding an exotic touch.
Conclusion:
Garima Arora's rise in the culinary world is a testament to her talent, innovation, and dedication. From Mumbai to Bangkok, her journey reflects her commitment to pushing the boundaries of Indian cuisine and presenting it in a new, global context.
5. Sriram Aylur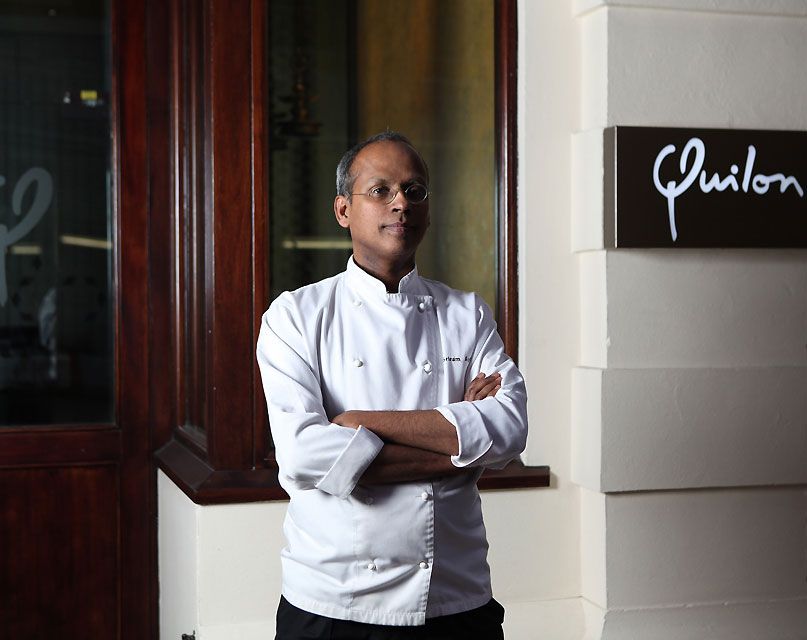 Coastal Flavors to Global Acclaim:
Sriram Aylur's culinary expertise lies in bringing the flavors of Southwestern India's coast to the global stage. At the helm of Quilon in London since 1999, Aylur's dedication to authenticity and innovation has earned the restaurant a Michelin star, which it has retained for an impressive 14 years.
Signature Dishes:
Aylur's menu at Quilon is a celebration of coastal Indian cuisine. Dishes like black cod with coconut, asparagus, and snow peas showcase his ability to blend traditional flavors with modern techniques. His Mangalorean chicken and masala dosa are other standout items that reflect his deep-rooted connection to Southwestern Indian cuisine.
Conclusion:
Sriram Aylur's dedication to showcasing the rich flavors of coastal India in a global setting has earned him a place among the culinary elite. His consistent excellence and commitment to authenticity make him a beacon in the world of Indian cuisine.
6. Srijith Gopinathan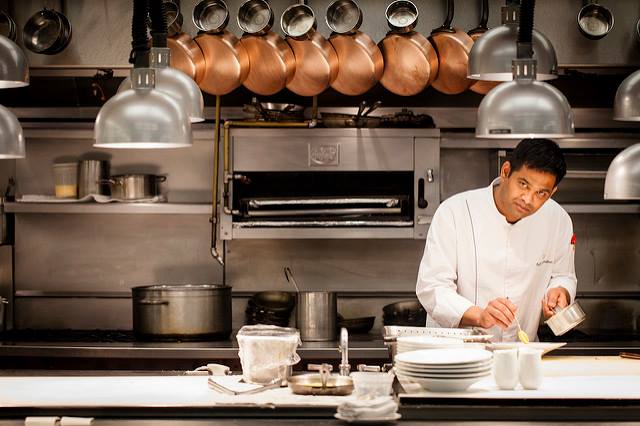 From Kerala to California:
Srijith Gopinathan's culinary journey began in Kerala, India, known for its rich tapestry of flavors. After training at the Culinary Institute of America, he further honed his skills at the two Michelin-starred Belmond Le Manoir aux Quat'Saisons in England under the guidance of Raymond Blanc.
Taj Campton Place and Beyond:
For over a decade, Gopinathan has been the driving force behind the culinary offerings at Taj Campton Place in San Francisco. His unique "Cal-Indian" cuisine, which blends Californian ingredients with Indian techniques, has earned the restaurant two Michelin stars.
Signature Dishes:
Gopinathan's menu is a reflection of his innovative approach to food. Dishes like Maine lobster poached in spiced ghee and Kerala fried quail showcase his ability to blend the flavors of his homeland with his global experiences.
Conclusion:
Srijith Gopinathan's journey from the spice-laden coasts of Kerala to the culinary hotspots of San Francisco is a testament to his talent, innovation, and dedication to elevating Indian cuisine on the global stage.
7. Alfred Prasad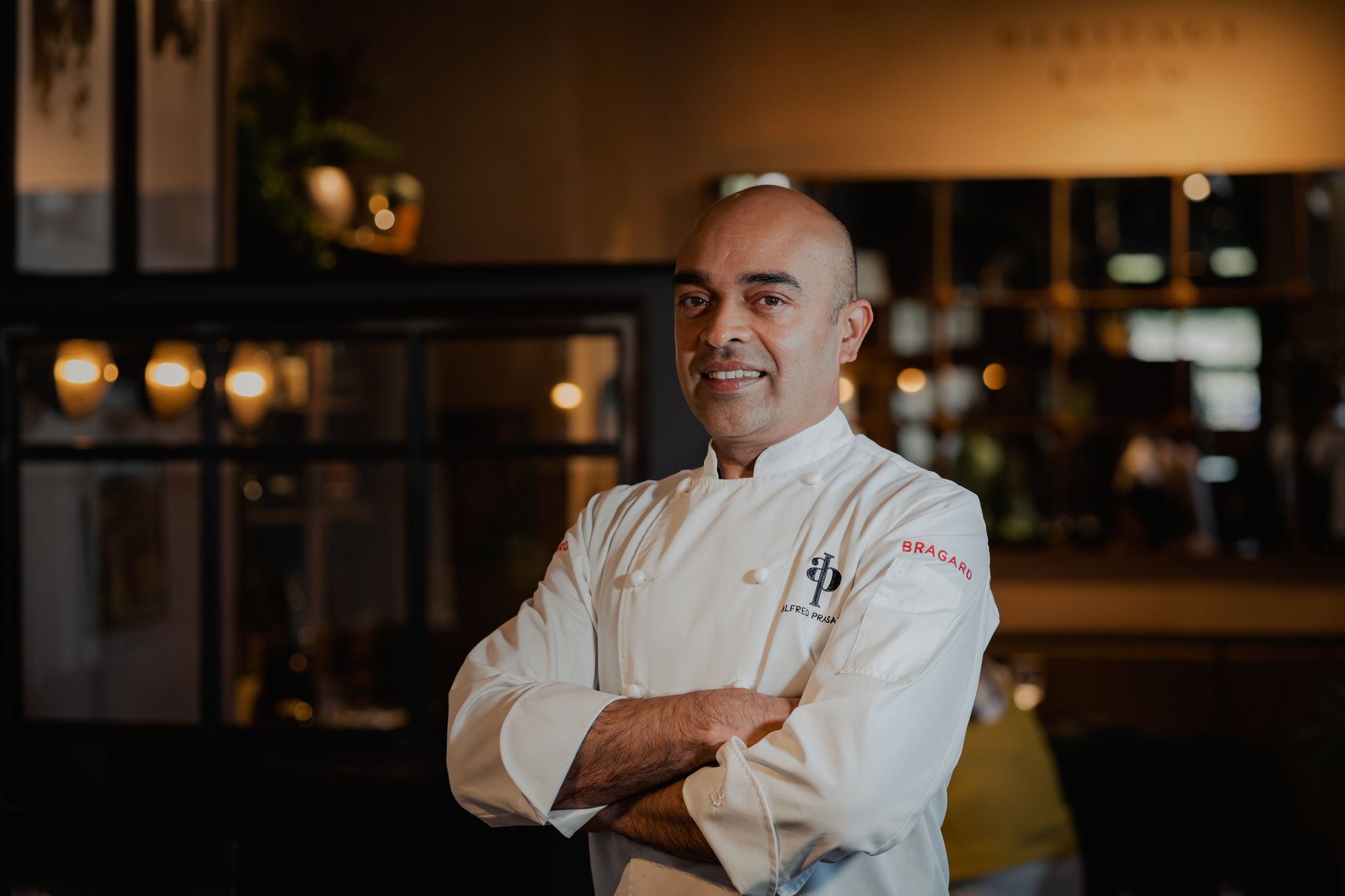 From New Delhi to London:
Alfred Prasad's culinary roots trace back to the vibrant and diverse flavors of India. His foundational training took place at two of India's most prestigious restaurants: Dum Pukht and Bukhara at the ITC Maurya in New Delhi, and Dakshin at the Park Sheraton in Chennai. These establishments, known for their North and South Indian delicacies respectively, shaped Prasad's deep understanding of Indian cuisine.
Tamarind and the Michelin Star:
In 2001, Prasad's culinary journey took a significant turn when he joined Tamarind in London's upscale Mayfair district. Within just a year, his exceptional skills and innovative approach to Indian cuisine led him to become the restaurant group's director of cuisine. Under his leadership, Tamarind was awarded a Michelin star in 2002, making Prasad the youngest Indian chef to achieve this honor at the age of 29. He didn't just win the accolade once; he retained it for an impressive 13 consecutive years.
Signature Dishes:
Prasad's culinary creations are a harmonious blend of traditional Indian techniques and contemporary flair. Dishes like Dalim Shakarkandhi (sweet potato with ruby pomegranate and yoghurt swirls) and Ayam Tikka showcase his ability to reinvent classic Indian recipes with a modern twist, making them resonate with a global audience.
Conclusion:
Alfred Prasad's ascent from the bustling kitchens of New Delhi to the elite dining rooms of London is a story of passion, innovation, and unwavering dedication. His contributions to the global culinary scene have not only elevated Indian cuisine but have also inspired countless chefs and food enthusiasts worldwide.
8. Vijay Kumar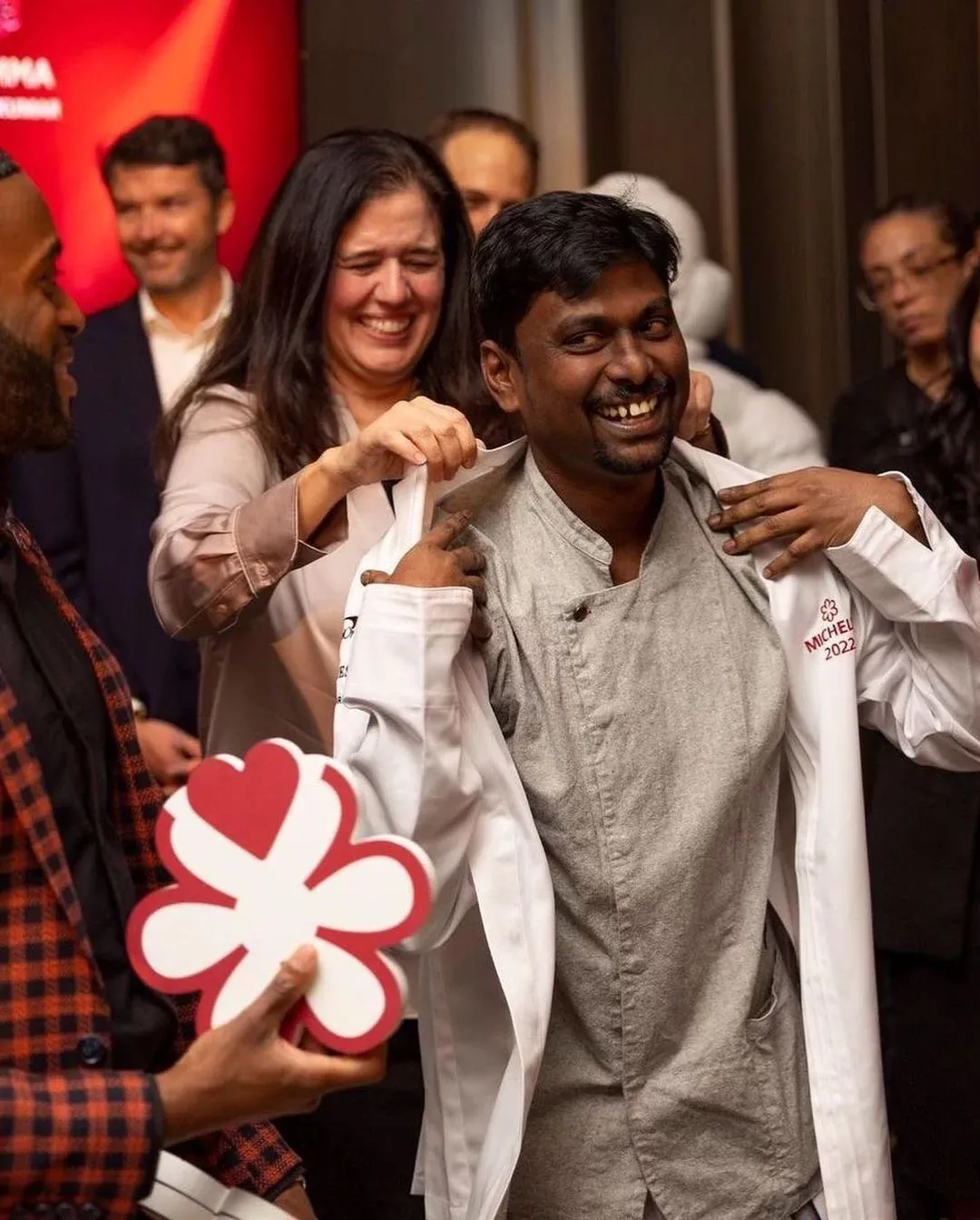 From Dindigul to New York:
Chef Vijay Kumar's culinary odyssey began in the quaint town of Dindigul, located in the heart of Tamil Nadu, India. Today, he stands tall in the bustling city of New York, having brought the authentic flavors of South India to the global stage with his restaurant, Semma. This gastronomic haven, which translates to "awesome" in Tamil, has recently been adorned with the prestigious Michelin Star, a testament to Kumar's dedication and passion for his craft.
Semma and Beyond:
At the age of 41, Vijay Kumar has achieved a remarkable feat that many immigrant chefs only dream of. Instead of conforming to the popular Western perception of Indian food, Kumar chose to delve deep into his Tamil roots. He introduced New Yorkers to dishes they might never have heard of, let alone tasted. Gone were the clichéd Chicken Tikka Masalas, replaced by authentic delicacies like Naithai Pirattal (snail curry), Attu Kari Sukka (lamb roast), and the refreshing Elaneer Payasam (coconut kheer). His culinary creations are not just meals; they are stories, tales of his homeland, narrated through flavors and aromas.
Signature Dishes and Philosophy:
Vijay Kumar's approach to food is deeply rooted in his heritage. Every dish he crafts is a reflection of the teachings of his mother and grandmother. Their influence is evident in the love and care he pours into his creations, ensuring the use of high-quality ingredients and a meticulous attention to detail. His dishes are not just about taste; they are about tradition, about preserving the culinary legacy of Dindigul and sharing it with the world. The Elaneer Payasam, a dessert made with tender coconut, stands out as a testament to his commitment to authenticity.
Conclusion:
Vijay Kumar's journey from Dindigul to New York is a story of perseverance, passion, and pride in one's roots. It's about breaking stereotypes, introducing the world to the rich tapestry of South Indian cuisine, and proving that with dedication and love for one's craft, any dream can be realized. As Semma continues to win hearts and accolades, Kumar's tale serves as an inspiration for chefs worldwide, reminding them of the magic that can be created when one stays true to their heritage.
9. Rohit Ghai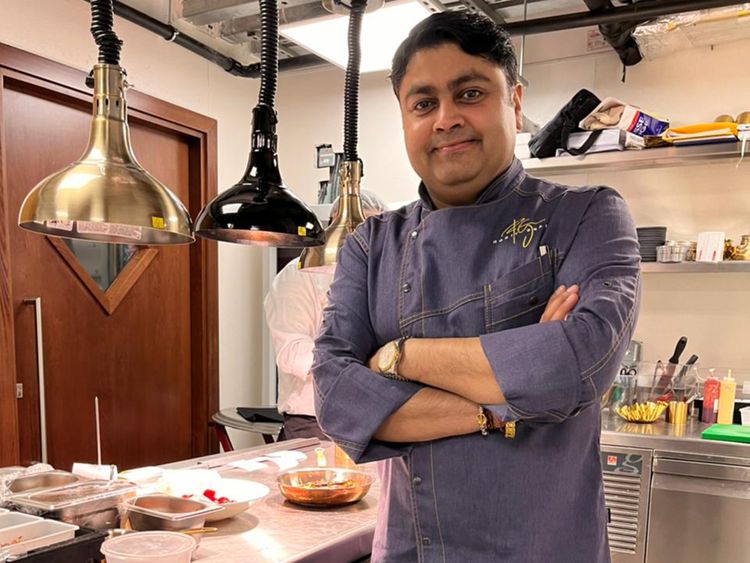 From Gwalior to London:
Rohit Ghai's culinary origins are deeply rooted in the historic city of Gwalior, Madhya Pradesh. Growing up in a Punjabi family, Ghai's earliest memories of food revolve around his mother's kitchen, where he was introduced to the rich and diverse flavors of Indian cuisine. His mother's makki ki roti with sarson ka saag and her unique khichri recipe using yellow lentils are dishes that have left an indelible mark on his culinary psyche.
Journey to Michelin Stardom
After completing his education at the Institute of Hotel Management in Gwalior, Ghai embarked on his professional journey with Oberois Hotels & Resorts, followed by a stint at Taj hotels. However, the allure of international exposure led him to London, where he showcased his culinary prowess at renowned restaurants like Benares, Trishna, Gymkhana, Hoppers, Jamavar, and Bombay Bustle. His dedication and innovative approach to Indian cuisine were recognized when he earned a Michelin star within 10 months of opening Jamawar.
Signature Dishes
Ghai's culinary creations are a testament to his philosophy that food should have heart, not just taste. He has a knack for deconstructing traditional Indian dishes and presenting them with a contemporary twist. His rendition of the Gujarati dhokla transformed into a grilled salad, paired with apple, beetroots, and classic chutney, exemplifies his innovative approach. Another standout dish is the lotus kofta, a tribute to his mother's recipe, which he serves with pride at his London restaurant.
Conclusion
Rohit Ghai's journey from the bustling streets of Gwalior to the elite dining circles of London is a story of passion, perseverance, and culinary excellence. His ability to seamlessly blend traditional Indian flavors with modern techniques has positioned him as a trailblazer in the global culinary scene. Whether it's his daughter's feedback or the accolades from the Michelin guide, Ghai's commitment to elevating Indian cuisine remains unwavering.
10. Aktar Islam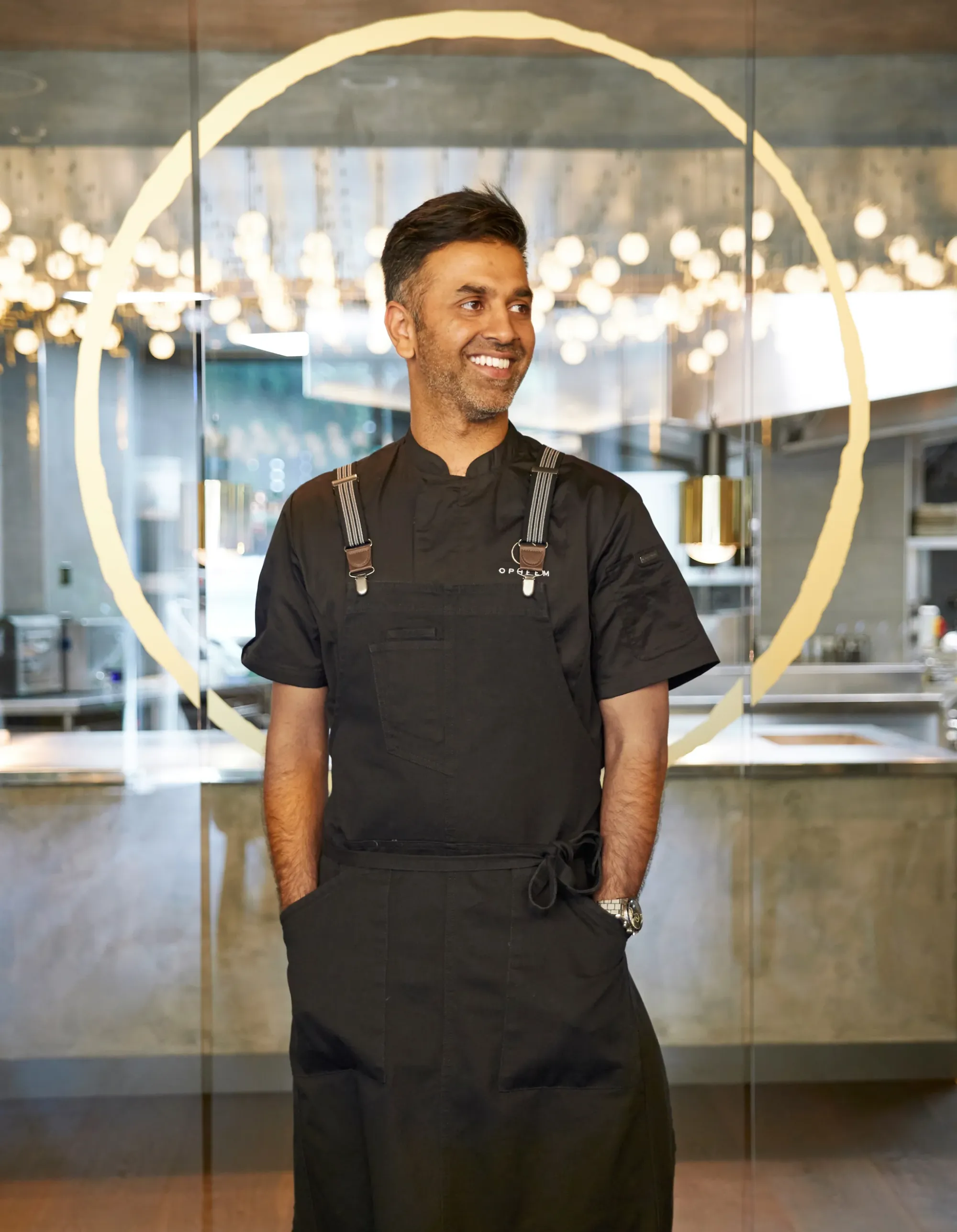 From Birmingham to National Stardom:
Born and raised in Birmingham to Bangladeshi parents, Aktar Islam's culinary journey began in his father's restaurant, The Indian Palace in Solihull. By the age of 13, he was already working in the kitchen, and by 20, he had taken over the family business. While his father entered the restaurant industry out of necessity, Aktar's passion for food was evident from a young age, nurtured by his mother's cooking.
Journey to Michelin Stardom:
Aktar's restaurant, Opheem, in Birmingham, has been a game-changer in the realm of Indian fine dining. In 2019, it was awarded a Michelin star, making it the first and only Michelin-starred Indian restaurant outside of London. Aktar's approach to food is a celebration of British ingredients, seasons, and the culinary heritage of the Indian subcontinent. He believes in showcasing ingredients in their best light, combining influences from various parts of India.
Signature Dishes:
Opheem stands out for its innovative and unique dishes. Aktar emphasizes that it's not about deconstructing a curry but about working with ingredients and blending influences from different parts of India. His vision for Indian cuisine is to break the "one size fits all" mold that has dominated the British curry model since the 1960s. He encourages a personal take on Indian food, hoping to inspire others to break away from the formulaic approach prevalent in many Indian restaurants.
Beyond Opheem:
Apart from his success with Opheem, Aktar has been a prominent figure in the restaurant industry for nearly a decade. He directed the food offering at Lasan Group until 2017 and helped launch the Argentinian restaurant Fiesta del Asado. He is also set to open Pulperia, showcasing high-quality cuts of meat from around the world. Despite the challenges faced by his other ventures, like Legna and Pulperia, during the pandemic, Aktar's resilience and adaptability shone through with the launch of Aktar at Home, providing restaurant delivery boxes and supporting charities in Birmingham.
Conclusion:
Aktar Islam's journey from a local lad in Birmingham to a national TV superstar and Michelin-starred chef is a testament to his talent, determination, and innovative approach to food. His appearances on shows like The F Word and Great British Menu have further solidified his reputation in the culinary world. At the heart of his success is his belief in staying true to oneself and not competing with others. For Aktar, the real wealth lies in the people around him, and his legacy is the positive impact he leaves on the world.
Conclusion
The journey of these ten Michelin-starred Indian chefs is not just about accolades and global recognition. It's a story of resilience, innovation, and an undying passion for showcasing the soul of Indian cuisine. They have taken the rich tapestry of Indian flavors, woven with stories of their homeland, and presented it to the world in a form that resonates with the global palate. Their achievements are a testament to the fact that Indian cuisine, with its myriad flavors and traditions, can stand tall in the world of fine dining.
In an era where culinary boundaries are constantly being pushed, these chefs have ensured that Indian cuisine is not left behind. They have become the torchbearers of a culinary legacy, taking it to places it has never been before. Through their restaurants, they offer more than just a meal; they offer an experience, a journey through India's diverse culinary landscape, reimagined and presented with a touch of modernity.
As we celebrate their achievements, it's essential to recognize the broader message they bring to the table. They remind us that cuisine, like culture, is fluid, ever-evolving, and open to interpretation. They inspire upcoming chefs to dream big, to innovate, and to carry forward the rich culinary heritage of India. In their stories, we find hope, inspiration, and a future where Indian cuisine continues to shine, not just as comfort food, but as a fine art.
If you are interested in knowing more about India's affluent favorite global destinations, check our article From Paris to Phuket: Top International Destinations for the Affluent Indian.